Classical Education with Memoria Press (Review)
There is nothing not to love about classical literature. In fact I have shared our love for it many times over the past two years. One of the things I strive to do while planning each homeschooling year is find new classics to add to our literature curriculum. This year I am so pleased to have had the chance to enjoy the literature study guides from Memoria Press.
Classical Education with Memoria Press
Today I am sharing our thoughts and experience with Memoria Press Literature Guides in hopes that it helps you in your homeschool journey. We are using the More StoryTime Treasures Student Guide and Answer Key Set which is labeled for first grade. This literature curriculum will work on building your child's vocabulary, reading comprehension, and grammar skills through the study of seven wonderful classic books.
I love the depth of the learning with this curriculum. My son is working on his handwriting, defining words, writing sentences, enjoying geography, maps and flags, plus being able to use his creativity with drawing pictures and coloring. For us having everything laid out for him in daily lessons has worked out great. He loves the stories and I love that all of his skills are improving while enjoying each other.
We love using the More StoryTime Treasures Set from Memoria Press to explore great books like The Story About Ping and Miss Rumphius. If you aren't familiar with these titles yet that's okay. I am sure after reading them they will become life long treasures. They definitely will stay on our bookshelves forever. In fact looking into the future the books and sets look amazing. Books like Mr. Poppers Penguins, Homer Price, and Farmer Boy are just a few to be excited about.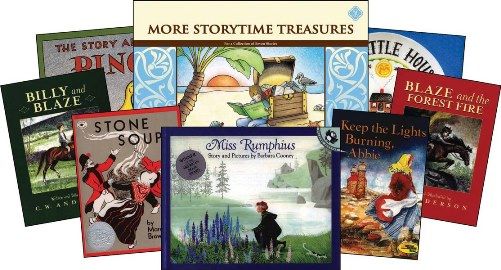 With this Student Set you get these great books plus the Student Study Guide.
More StoryTime Treasures:
Billy and Blaze by C.W. Anderson
Blaze and the Forest Fire by C.W. Anderson
The Story About Ping by Marjorie Flack and Kurt Wiese
Keep the Lights Burning, Abbie by Peter and Connie Roop
Stone Soup by Marcia Brown
The Little House by Virginia Lee Burton
Miss Rumphius by Barbara Cooney
You can also choose to add the Teachers Key (Guide) which  gives you the answers to the questions, vocabulary, and everything else found in More StoryTime Treasures, so you have the tools you need to guide your children through this first grade literature program! I like having both the student and teacher guide so I can reference back to things and for peace of mind.
You can learn so much from these wonderful study guides. When you first open the guide it has two pages with ways to use the guide.
1. Observing the cover of the book
2. Finding the title page
3. Finding the dedication page
4. Word Studies
5. Defining words
6. An introduction to English Grammar
and so much more.
Little B has been so happy it's been great!
We are so excited to dive into the Billy and Blaze series soon. Especially since we have a Blaze at our house 🙂 I definitely plan on continuing our learning with More StoryTime Treasures. Classic books and easy to use guides makes us very happy.
Memoria Press is Classical Christian Education for all ages K-12.
You can read all about Memoria Press by clicking here.

Visit Natural Beach Living's profile on Pinterest.

Join Natural Living and Learning where we can chat and share more.