50+ Halloween Party Ideas for the Family
Holidays can be so much fun. Whether you are hosting a large community party or looking for easy ideas for the family I have filled this page with Halloween food, crafts, games, and more. These ultimate Halloween party ideas are sure to have everyone celebrating. Happy Halloween!
Family Halloween Party
Halloween Party Ideas – Halloween Food – Halloween Crafts
This fun kid friendly Halloween Party Drink is absolutely delicious and will have your children howling for more.
Halloween Party Ideas
Ghost Rockets Halloween Activity – Play Learn Grow
Combine science with Halloween by creating these ghost rockets, made from film canisters and Alka seltzer.
Candy Corn Fruit Cup – Nellie Bellie
Create this candy corn inspired fruit cup, made from oranges and pineapple bits, and topped with whipped cream. Image credit: Nellie Bellie
How to Make Perfect Pumpkin Seeds – Home Cooking Memories
After carving pumpkins, roast pumpkin seeds for a fun snack. They're healthy, seasonal, and simple to make!
Pumpkin Apple Stamps – Frugal Mom Eh!
With apples, make pumpkin stamps for a fun activity simple enough for a classroom setting, but engaging enough for a couple hours of fun play!
Halloween Candy Free Slime Party Favors – Little Bins For Little Hands
The Best Pumpkin Books for Kids
These pumpkin books for kids will be loved for years. They are the perfect addition to any house or any fall unit for homeschooling.
Quick and Easy Halloween Treat Jars – Happiness is Homemade
This simple but adorable Halloween themed mason jar can be filled with a gift mix, food, or treats. It's great for teachers, neighbors, carpool parents, or friends! Image credit: Happiness is Homemade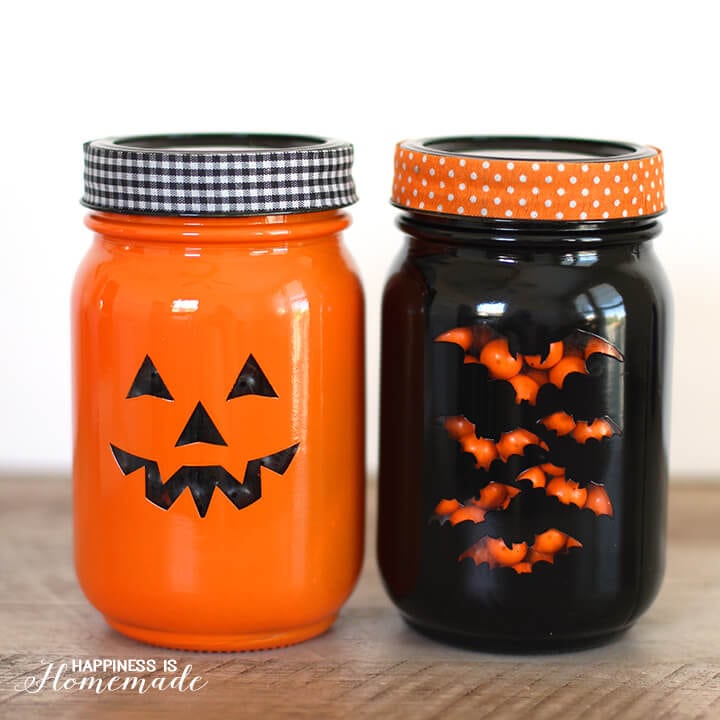 With water balloons and cheese cloth, create stand-alone ghosts! Plus, they have googly eyes – an instant hit among kids. These can be used as Halloween decor in the classroom or kid-friendly decor for the porch on Halloween night!
Swamp Water Punch – Purple Chocolat Home
For a fun Halloween drink, create this murky swamp water punch, with Dole pineapple juice, condensed milk, Sprite, and food coloring!
Melted Crayon Pumpkin Decorating Idea – Crafty Morning
Lavishly decorate white pumpkins with melted crayons and a blow dryer, for a fun and brightly colored pumpkin that can be customized with your favorite colors. Image credit: Crafty Morning
Crescent Mummy Dogs – Pillsbury
Instead of pigs in a blanket, try these "mummy dogs" – hot dogs wrapped in crescent rolls mummy-style. Step-by-step directions are provided.
Easy Halloween Spider Cookies – Princess Pinky Girl
Put a spin on your favorite cookie recipe, topped with chocolate drizzle and a Reese's peanut butter cup.
Lolly Pop Ghosts – One Little Project
For a simple Halloween gift, try these lolly pop ghosts, made with tissues and ribbon! They're great for class gifts, or handing out Halloween treats at home. Image credit: One Little Project
Pumpkin Rice Krispie Treat Recipe – Cincy Shopper.com
Instead of regular Rice Krispie treats, create these pumpkin shaped Rice Krispie treats. Mix red and yellow food coloring together to make orange, in this fun dessert.
Enchanting Halloween Lanterns – Adventure in a Box
Great for Halloween, create these customized lanterns – you can do a Halloween themed witch on a broom, Star Wars themed, flower petals, or Santa and his reindeer.
Halloween Games: Free Printable Charades – Buggy and Buddy
For small groups or as a family, play these Halloween themed charades for kids!
Studies have shown that if you really like this, you will also love the following articles. 🙂 I have pulled them together for you right here!
14 Epic No Carve Pumpkins You'll Want to Show Off

What do you think? Aren't these great Halloween party ideas that your kids will love 🙂 If you have a fun family friendly idea that would be great for Halloween I'd love to hear about it. Feel free to leave me a comment below.