This is our second review this year with Memoria Press and I'm just as happy this time around. This month we have been using D'Aulaires' Greek Myths. I loved Greek Mythology when I was younger and thought my boys would enjoy it too. Thankfully with homeschooling we are free to explore what we want when we want and this seem to fit right in with our end of the year curriculum.
Memoria Press ~ D'Aulaires' Greek Myths Study
Memoria Press specializes in classical education. Classical education uses a lot of memorization and reading comprehension. Even if you don't use classical education on a regular basis the way Memoria Press k-12 curriculum is set up you can easily incorporate it into your daily learning.
Someone is very excited to get started!
He loves new books and topics to learn about. Yay!
Our D'Aulaires' Greek Myths curriculum (review) includes the Student Guide, Teacher Guide, D'Aulaires' Book of Greek Myths, and Flashcards. Each lesson includes Facts, Vocabulary, Comprehension questions and Activities that correspond with the stories in the book. I love how each lesson in the teacher guide gives you the corresponding pages to read in the book. Everything is very easy to work through and understand. It's a great open and teach homeschool curriculum. Meaning hardly any preparation from us and these days that makes life so much easier.
The flashcards are a great tool to have. It goes well with the classical education philosophy if you are using that. If not they are still great for the children to be able to use to study. In my house my two middle boys love trivia questions and competing against others, so for us we use cards like this to play games. Win for the boys because they love games and are learning at the same time. Win for mom, because I love seeing them excited over knowing so many great facts.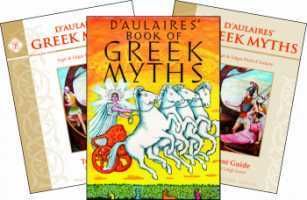 Although I didn't review a copy of
The Book of Astronomy
I've heard that these pair up perfectly together. I am considering adding it even though we've done a lot of astronomy already. My boys loved all of our activities and unit studies having to do with astronomy, so I am sure they wouldn't mind 🙂
The Greek Myths curriculum is intended for grades 3-6, although children through high school could definitely use this. I still love to read the stories. They are timeless tales that have been read and told for thousands of years. Our family thinks knowing the Greek myth stories is important because they are used in so many ways. From literature, to cars, constellations, and more Greek Myths will always be referred to.

As far as whether I would recommend Memoria Press 
D'Aulaires' Greek Myths
 curriculum I would say definitely yes! It is perfect for your upper elementary school through Middle school children and has a lot to offer your whole family. I bet it will bring a few memories back from your schooling days 🙂 I mean who could forget the stories of ZEUS and his family… Such great myths.