20+ Healthy Toddler Lunch Ideas
Being home most of the time has had me searching for healthy meals to serve my family. It's nice having a weekly meal plan, but sometimes we like to add new and exciting dishes to it. I bet your family probably enjoys a food change occasionally too. Right?  Thankfully, I've found several delicious and Healthy Toddler Lunch Ideas your kids will love. Check them out below.
Healthy Toddler Lunch Ideas
20+ Delicious Healthy Toddler Lunch Ideas
Kids and adults love this healthy fruit wrap – It's delicious and easy to make.
affiliate links can be found on this blog at no cost to you.
Lunch Box Kabobs – It Is A Keeper
Mix up average lunches with these kabobs! I love how versatile kabobs are, and you can personalize each one according to each child's different taste.
Healthy Baked Chicken Nuggets – Skinny Taste
Make your own chicken nuggets, coated with bread crumbs and crumbly parmesan cheese. Not only are these healthier than traditional store-bought chicken nuggets, but they don't contain any processed ingredients.
Peanut Butter Banana Quesadillas – Budget Bytes
These peanut butter banana quesadillas are affordable (about $.86 per serving) and simple to whip up for a quick out-of-the-ordinary lunch.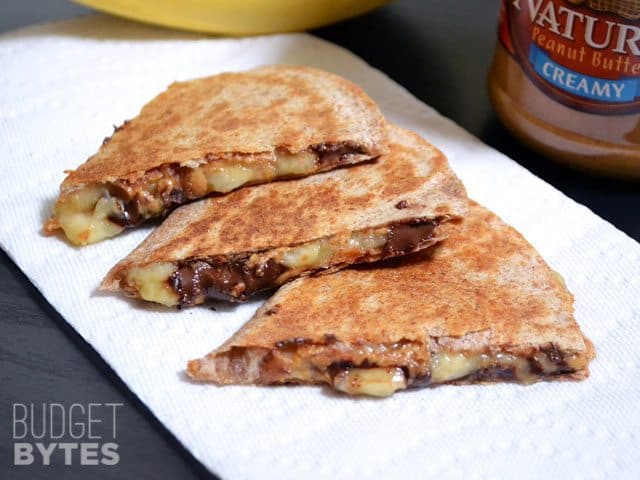 Star Wars Stormtrooper Bento Lunch – 4 The Love of Family
Star Wars is a no-fail kid-friendly lunch. Filled with a yummy tortilla and chicken strips, kids will love eating this snack!
Cheese and Veggie Muffins – Learn With Play At Home
These cheese and veggie muffins are easy enough that kids can help you make them! Mix vegetables with some fresh, gooey cheese in this yummy homemade lunch!
Back To School Superhero Lunch Box – Life With The Crust Cut Off
Inspire kids with this superhero themed lunch, complete with a sandwich, banana, and chocolate milk.
Apple Sandwiches – Caramel Potatoes
Creamy peanut butter mixes with crunchy apples and sweet chocolate chips in this nutritious after-school snack, or lunch treat.
Strawberry & Granola Yogurt Bark – Six Sisters Stuff
There are only four ingredients in this yogurt bark. They have a sweet taste, yet made out of healthy and nutritious ingredients.
Put a unique spin on peanut butter and jelly sandwiches with these kabobs. Replace the skewers with straws for a safer treat!
More Healthy Toddler Meals
Egg Salad BLT – Taste Better From Scratch
Create devilled egg inspired egg salad BLTs. These BLTs can be modified for all age ranges, which makes them convenient for multiple people.
Toddler Lunches – My Life of Travels and Adventures
For a simple on-the-go lunch, create these DIY-Lunchables. Here are 8 basic toddler-approved dishes!
Lunchbox Perfect Apple Salad – Mirlandra's Kitchen
As an alternative to traditional salad mixes, try this yogurt-filled apple salad. It takes only about five minutes to make, and has only two ingredients! There's also no chewing involved, which makes it great for sensitive teeth.
Easy Sandwich Kabobs – Eat Drink Love
For a fun alternative to traditional ham and cheese sandwiches, create these kid-focused sandwich kabobs, which are just as easy to put together.
Homemade Pizza Rolls – Tidy Mom
Make your own pizza rolls! These are healthier than traditional pizza rolls, and can be modified depending on your favorite pizza ingredients!
Did you find a few healthy lunch ideas that you want to try out? If you try any or have favorites of your own, please leave me a comment and share your thoughts. I love hearing about what works for you.
If your family loves healthy food, head over here for a fun free Farmer's Market Scavenger Hunt and Eat the Rainbow Printables.
YOU ARE ALSO GOING TO LOVE:
Studies have shown that if you like this, you will also love the following articles. I have pulled them together for you right here!
Follow Natural Beach Living's board Food and snacks for little ones on Pinterest.